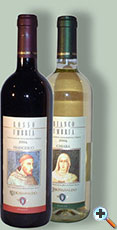 COD. V1
WHITE AND RED
WINES FROM ASSISI
itre 0,75
two bottles Euro 7,90
Two good table wines obtained from the crushing of Sangiovese, Canajolo, Montepulciano grapes for the red wine; Trebbiano, Grechetto, Malvasia for the white. The former suitable with roast, the latter with hors-d'œuvres or with second course. They both have the bouquet of Umbrian wines, at a very convenient price. Their labels are illustrated with figures of St. Clare and St. Francis copied from fresco paintings by Simone Martini in the lower church of St. Francis Basilica.

click to order
litre 0,75
Euro 7,90
This red wine from the DOC zone of Assisi has been honored many times over, and is among the best wines of Umbria. Full-bodied but harmonious, it is aged just enough to develop its bouquet fully. Although produced in limited quantity it has a great balance between quality and price.

click to order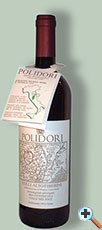 COD. V3
RED BIOLOGICAL WINES
FROM THE HILLS
litre 0,75
Euro 7,90
From the Altotiberini hills a red wine, produced in Umbria by methods of the Biological Agricolture (Reg. CEE 2092/91) according to the rules of the Association of Italian Biological Agricolture. Excellent in quality, it combines the pleasure of drinking with the certain knowledge of its genuine nature and at an extremely interesting price.

click to order

COD. V4
RED WINE RUBESCO
LUNGAROTTI
litre 0,75
Euro 7,90
Produced from Sangiovese and Canajolo grapes from the sunny hill side vineyards of Torgiano, it has an intense ruby red colour. It is a noble, full-bodied wine with a well-balanced, harmonious bouquet. Aged in oak barrels, once bottled it continues to improve to full maturity.


click to order

COD. V25
LAGO DI CORBARA D.O.C. DECUGNANO DEI BARBI
lt 0,75
Euro 11,90
Among the best wines from the Orvieto region in southwestern Umbria, this red wine is a deep ruby with violet hints. Great accompaniment to dishes that are rich and strong in flavor, such as roasted meats, game and aged or piquant cheeses. Varietals: Sangiovese, Montepulciano d'Abruzzo and Canaiolo. Aged in Slavonian oak barriques before bottling, after which the wine is aged for at least three months in cellars.

click to order

COD. V27
ROSSO VILLA FIDELIA SPORTOLETTI
lt 0,75
Euro 14,90

I.G.T. red wine produced by local Umbrian winery Sportoletti with great attention to detail. Aged for 12 months in oak barriques, this blend of Merlot and Cabernet Sauvignon pairs wonderfully with roasted meats, aged cheeses and stews. The alcohol content of 14% allows for ageing. Has received the highest honors in every presentation.

click to order

COD. V7
RED WINE SAGRANTINO
MONTEFALCO A. CAPRAI
Heir to a long tradition of wine production from the gentle umbrian hillsides, today's Sagrantino is made from superb grapes transformed by the winemakers into a noble wine, ruby red, dry, velvet smooth with just a slight bitter aftertaste. It goes particularly well with special roasts or game. Uncorked several hours ahead of time, if served at a temperature of 15°-18°c., it is sublime.

click to order

COD. V8
RED WINE RUBESCO
RISERVA VILLA
MONTICCHIO
litre 0,75
Euro 29,80
A special selection of Rubesco, this is a product of Sangiovese and Canajolo grapes from the Monticchio vineyards which are situated in a particularly favour able, mild, well-exposed area. Red oak and the long refinement after bottling combine to harmonize its quality. It has a delicate all-encompassing bouquet. It is a complete, quality wine improved by aging.

click to order

COD. V9
RED WINE
SAN GIORGIO
LUNGAROTTI
litre 0,75
Euro 28,90
A happy mixture of Cabernet Sauvignon, Sangiovese and Canajolo grapes, this wine is produced in limited quantity. A high quality wine with a well balanced tanic structure. Mature and velvety warm, it pleases the palate for its content, bouquet and personality. It should be served at room temperature like all great red wines
(18° c.).

click to order

COD. V70 SAGRANTINO MONTEFALCO D.O.C.G. A. CAPRAI "25 YEARS"
lt 0,75 Euro 58,00

Produced only in small quantities in the best years, the 25 Years has gotten from the Guide Wines of Italy "Slow Food" the award of the 3 glasses and the most important prizes and praises from all the national and international principal guides of the wine among which the 97 points for the year 2000 of the Wine Advocate and the assignment in the 2005 of the title of good wine of Italy from the guide of the guides worded from Milan Finanza.

click to order

COD. V7 bis
SAGRANTINO
DI MONTEFALCO
lt 0,75
Euro 19,90
An excellent wine with the same characteristics of the code V7, produced by Cantine Lungarotti.

click to order

COD. V26
VINO ROSSO DI MONTEFALCO
lt 0,75
Euro 8,90
A brilliant ruby red wine that is dry yet harmonious with intense ripened fruit on the palate. It has rich body and persistent finish. This goes perfectly with red sauces, red meats, and semi-aged cheeses. Serve between 16C and 18C opening the bottle at least one hour beforehand.

click to order
lt 0,75
Euro 4,90
To the confinements of the zone typical of the wine Orvieto another famous white wine produces him. This wine has been made famous in 1100 from the Bishop Defuk, that wanted with this triple east to strengthen the signal to have found a good wine.

click to order
COD. V10
VIN0 DULCIS
LUNGAROTTI
litre 0,75
Euro 9,80
A sweet dessert wine produced from Passito grapes chosen at the time of harvesting and wine making. A brilliant, intense topaz colour, the scent reminding one of lime and apricots, it is a very smooth wine. The name goes back to the old tradition of its being decanted at Easter time, during Holy week.


click to order

COD. V11
SAGRANTINO PASSITO
FROM MONTEFALCO
litre 0,50
Euro 19,90
Red dessert wine, very harmonius and very aromatic is obtained from grapes well ripened for two months, it is all most possible to detect the flavour of blackberries and wild fruits. The longer it stays the better it tastes. Taken with traditional Umbrian pastries it becomes a typical wine for meditation.

click to order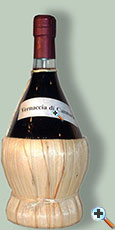 COD. V12
VERNACCIA FROM
CANNARA
litre 0,75
Euro 15,50
Vernaccia is a Passito wine produced by only a few farm in the Commune of Cannara. It is an excellent wine which goes well with cheeses, salami or according to local tradition with Easter cheese bread. Produced by Gino Trabalza it is outstanding for its quality and typical features which are the result of a careful artisan preparation.

click to order

COD. V31 LUNGAROTTI BRUT SPUMANTE

lt 0,75 Euro 12,90
A blend of Chardonnay and Pinot Noir cultivated in the nearby DOC zone of Torgiano. This sparkling wine is fermented in the bottle according to the classical method and produced entirely by hand, ensuring a high quality product that is both elegant and harmonious.

click to order