g. 500
€ 8,90
now not available
For a good soup of onion to dissolve in a little pot a flour spoon with five or six spoons of pulp of onion, after to add the remainder pulp of onion and to amalgamate all (to add some water if necessary). To pour the soup in single oven saucepan, with one slice of toasted bread , to season with thin slices of cheese of pit and with grated parmesan cheese, to put in oven to 180 degrees until the soup will have taken a beautiful gilded color.

click to order

COD. CP2
ONIONS IN
BITTERSWEET
g. 550
€ 7,95
now not available
These exceptional onions in bittersweet are very good for to serve to the appetizer or as accompaniment to the boiled meats, to stews meats or to roast meats, excellent also alone or in the salads of vegetables or in the salads of chicken. They are prepared with little onions of Cannara selected one to one, and sugar, flour, vinegar, water, salt. They are ideal to accompany the tasting of the Raclette cheese. They always add a delicate taste to the dishes.

click to order

COD. CP5
COMPOTE OF
CANNARA ONIONS
g. 180
€ 6,90
now not available
The compote of white onions is a good combining to the cheeses seasoned or to the roast meats. From the ingredients that they compose it, onions of Cannara, sugar, cinnamon this sauce of definite taste is born, perfumed, pleasantly bittersweet, good also on a slice of bread cooked to firewood.

click to order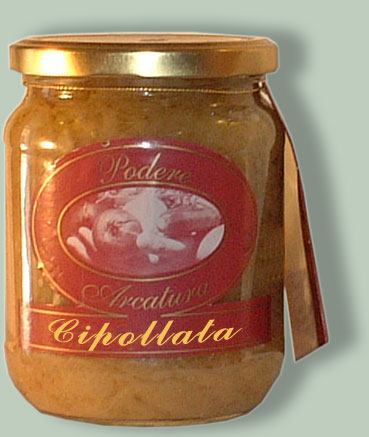 COD. CP3
CIPOLLATA DI CANNARA (ONIONS AND TOMATOES)
g. 300
€ 6,90
now not available
In the preparation of the cipollata, in addition to the onions, are used fresh tomato, oil extra virgin of olive, basil. These simple ingredients do a light sauce of it, delicious as seasoning for pasta or as accompaniment of meat.

click to order